India vs Pakistan: ICC Cricket World Cup 2023 match preview
Pakistan is visiting India for the first time since the 2016 Twenty20 World Cup, and it's worth noting that the 1992 World Cup champions have never managed to defeat two-time champion India in a 50-over World Cup match. However, Pakistan's captain, Babar Azam, is taking a forward-looking approach.

Babar expressed his disregard for the past, saying, "I don't think about the past; I'd rather focus on the future." He added with a wry smile, All records are meant to be broken, and we'll try to break this record tomorrow.
Leading up to this highly anticipated 12th match of the tournament, both India and Pakistan have won their first two games. India secured a six-wicket victory against five-time champions Australia in Chennai, followed by an eight-wicket win against Afghanistan in Delhi.
Pakistan played their opening matches in Hyderabad, where they defeated the Netherlands by 81 runs in the first game and achieved a record-breaking batting chase under lights to defeat Sri Lanka by six wickets.
Babar's message to his team emphasizes making the most of the opportunity and leaving a lasting impression on those watching back home. He said, "The India-Pakistan match is a significant, high-intensity contest. I've told my boys it's a great opportunity – give your best, execute your plans, and believe in yourself."

One key point of discussion during this tournament has been the attendance of spectators, with visibly half-empty stands. However, this issue won't be present on Saturday, as the Narendra Modi Stadium is expected to draw a crowd of more than 100,000. Babar expressed Pakistan's aim to deliver their best performance in front of this massive audience at the stadium.
How to watch ICC Men's Cricket World Cup 2023: India vs Pakistan in the US, date, time, and where to watch
Cricket fans from around the globe are eagerly anticipating a magnificent display of top-tier cricket as the 2023 ICC Men's Cricket World Cup commences on October 5. Running from October 5 to November 19, this event guarantees a compelling lineup of exciting games, unforgettable highlights, and extraordinary performances that will leave spectators in awe.


What makes it even better is that our fellow Americans can savor every bit of cricketing excitement, from powerful boundary hits to skillful wicket-taking maneuvers, all available for live viewing on ESPN+.
India vs Afghanistan, World Cup 2023: Action in Images
In a much-anticipated showdown at the 2023 ICC Men's Cricket World Cup, India faces Afghanistan. Witness these two teams go head-to-head on the cricket field as they vie for supremacy in this exhilarating tournament. Be prepared for live action, exceptional displays, and thrilling moments that will leave fans on the edge of their seats.
India vs Pakistan: Who among Shaheen Afridi, Haris Rauf and Hasan Ali pose the biggest threat to Rohit
India and Pakistan have each secured two convincing victories in the 2023 World Cup, setting the stage for a highly anticipated showdown on Friday. This pivotal match will take place at the massive Narendra Modi Stadium in Ahmedabad. While India aims to maintain their flawless record against their arch-rivals in ODI World Cup games, Pakistan is banking on their star players to sustain their exceptional form and put an end to their drought against India.


Their foremost wish is for their pace spearhead, Shaheen Afridi, to regain his top form in this crucial match. In the two games played so far, Pakistan's bowling unit, and especially Afridi, have not quite lived up to their established reputation. The Netherlands, the only associate nation in this tournament, managed to post a challenging 205 runs against Pakistan, causing a momentary scare. In the same match, two Sri Lankan batsmen notched centuries, and the opposition reached an imposing total of 344/9. The fact that Pakistan successfully chased down this total, even with Babar Azam contributing just 10 runs, underscores the potency of their batting lineup. Nevertheless, the same can be said about India, who defeated Australia and Afghanistan primarily due to the exceptional form of their top five batsmen. Hence, Pakistan is keen on their leading fast bowlers making early breakthroughs against the Indian batters.
Pakistan vs Sri Lanka, World Cup 2023: Action in Images
An Electrifying Clash at the 2023 Cricket World Cup: Pakistan vs. Sri Lanka
The 2023 ICC Men's Cricket World Cup is in full swing, captivating cricket enthusiasts across the globe. Among the riveting encounters that have graced this prestigious tournament, the impending battle between Pakistan and Sri Lanka emerges as a prominent fixture, promising an enthralling spectacle for cricket aficionados.

This showdown between Pakistan and Sri Lanka is slated to unfold at one of the world's most iconic cricketing arenas, adding an extra layer of grandeur to the event. Both teams, fueled by their rich cricketing legacies and fervent fan followings, are primed to deliver an exhilarating contest.
Rich Cricketing Histories
Pakistan and Sri Lanka boast illustrious histories in the annals of the Cricket World Cup. Pakistan, crowned champions in the memorable 1992 World Cup, and Sri Lanka, victorious in the 1996 edition, have demonstrated their cricketing prowess on numerous occasions. Despite the occasional setbacks, these teams carry an aura of unpredictability into the tournament.

This match offers an outstanding opportunity for both sides to showcase their mettle and prove their potential to advance deep into the competition. Pakistan's formidable reputation in the realm of fast bowlers and batting prowess is well-known, while Sri Lanka's legacy includes the production of world-class spinners and stylish batsmen.
Key Players to Keep an Eye On
All eyes will be on Pakistan's captain, Babar Azam, a world-class batsman renowned for his elegant stroke play and unwavering consistency. In the bowling department, Pakistan will look to stars like Shaheen Afridi and Hasan Ali, who possess the skills and pace to make a significant impact.

Sri Lanka, in contrast, will pin their hopes on the seasoned all-rounder Angelo Mathews, known for his ability to tilt the game in his team's favor. The young batting sensation, Kusal Mendis, is expected to deliver pivotal runs, while the legendary Lasith Malinga's knack for taking crucial wickets is a key asset in the bowling lineup.
The Anticipated Battle
The forthcoming clash between Pakistan and Sri Lanka promises a captivating contest, featuring a gripping showdown between bat and ball. Spectators can anticipate breathtaking strokeplay, ferocious fast bowling, and clever spin bowling in this highly awaited faceoff.

As the tournament advances, both teams are under increasing pressure to secure valuable points and move closer to the coveted title. The outcome of this match will significantly shape their prospects in the 2023 World Cup.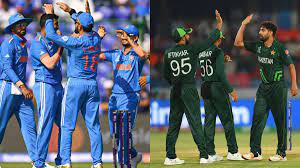 Read More:
The Eagerness of Fans
Cricket enthusiasts worldwide eagerly await this thrilling encounter. The rivalry between these two cricketing powerhouses, known for producing nail-biting clashes, is certain to ignite excitement among viewers. Whether one's heart leans towards Pakistan's flair or Sri Lanka's finesse, this match assures a gripping spectacle.

In the grandeur of the 2023 ICC Men's Cricket World Cup, the Pakistan vs. Sri Lanka match stands as a testament to the captivating and unpredictable nature of the sport. As the two teams step onto the field, the global cricketing community watches with bated breath, poised for moments of brilliance and unforgettable performances.
Welcome to India vs Pakistan at the World Cup
The evening brought thunder and lightning, with what initially started as a passing shower escalating into a heavy downpour. This unexpected turn of weather prompted people to hurriedly seek shelter, clutching onto something precious - their physical match tickets. Their determination was clear: they wanted to return the following day to witness the IPL final, an event of immense significance.

As it unfolded, this match became the highlight of the entire tournament, etching an indelible memory in the hearts of countless fans. Even as the clock struck 3 a.m. and more than 30 hours had passed since the scheduled start, some were still immersed in the festivities that had followed the emotional roller-coaster of that final showdown.

On that night, Ahmedabad became the epicenter of Indian cricket, and the prospect of another such occasion, possibly even grander, later in the year for an event they were confident would be hosted in Ahmedabad, left them buzzing with excitement.
FAQs
Q: Where is the World Cup in India vs Pak 2023?
Ans: In a highly anticipated encounter, two cricketing powerhouses, the Asian giants, are set to face off for the first time in the 2023 World Cup. The prestigious showdown is scheduled to take place on Saturday, October 14, at the Narendra Modi Cricket Stadium in Ahmedabad. The global cricketing community eagerly anticipates the drama that will unfold in this marquee clash.
Q: Who won most in IND vs Pak?
Ans: Pakistan holds the most wins overall with 73 victories out of 134 ODIs.
In the ODI World Cup, India boasts a flawless record of 7 wins in 7 matches.
The highest total achieved by India was 356 for 9 in Visakhapatnam on April 5, 2005, and 356 for 2 in Colombo on September 11, 2023.

Q: Who won most in IND vs Pak?
Ans: Pakistan holds the most wins overall with 73 victories out of 134 ODIs.
In the ODI World Cup, India boasts a flawless record of 7 wins in 7 matches.
The highest total achieved by India was 356 for 9 in Visakhapatnam on April 5, 2005, and 356 for 2 in Colombo on September 11, 2023.

Q: Will India ever be in FIFA World Cup?
Ans: India is currently at the 100th spot in the FIFA Men's rankings, and in the distant future, it is expected that India will climb up the spot and will be able to qualify for the FIFA World Cup. However, the chances of this happening in 2026 seem bleak.

Q: How many times Pakistan won World Cup?
Ans: Australia has clinched the tournament on five occasions, while India and West Indies have each triumphed twice. Pakistan, Sri Lanka, and England have secured the title once each. An exceptional achievement by a non-full-member team was witnessed when Kenya reached the semi-finals in the 2003 tournament

Q: How many times Pakistan beat India?
Ans: The two sides have played a total of 204 times. Pakistan has won 88 matches compared to India's 73 victories. In Test matches and ODIs, Pakistan has won more matches than India, although India has won eight of the twelve T20 International between the two sides.

Q: How many overs in World Cup 2023?
Ans: In the second week of the 2023 ICC ODI World Cup in India, here's the most recent update on the points table and the current team standings. The tournament commenced on October 5 with a clash between the defending champion, England, and the 2019 losing finalist, New Zealand, held in Ahmedabad.

Q: Where is the World Cup in India vs Pak 2023?
Ans: India is set to take on their long-standing rivals, Pakistan, in Match 14 of the ICC Cricket World Cup 2023 at the Narendra Modi Stadium in Ahmedabad. This much-anticipated encounter will be witnessed by a crowd of 130,000 at the stadium and millions more on their television screens and digital devices.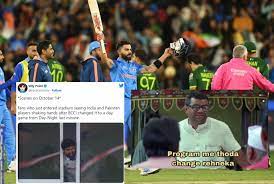 Read More: